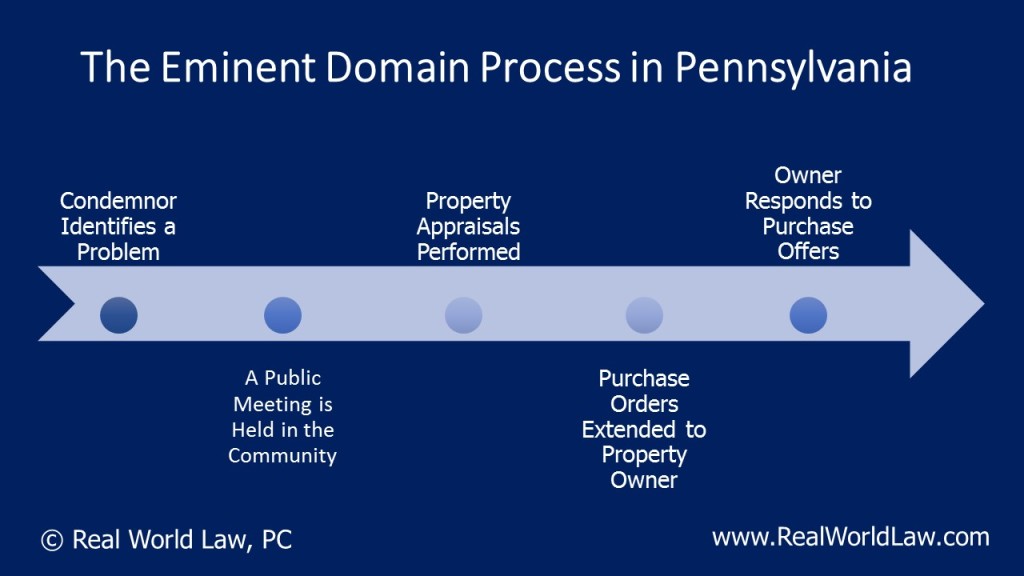 Eminent domain projects are taking off across Pennsylvania. Thousands of homes and businesses are being acquired.
In the Sharswood neighborhood of North Philadelphia, crews recently demolished the Blumberg Complex to make space for new developments. 1300+ residents are being relocated — and the city is using the power of eminent domain to carry out its plans.
If you're a property or landowner, you may find a condemnation notice in your mailbox at some point.
Though the laws vary from state to state, this chronology will walk you through the process in Pennsylvania:
Step 1: Condemnor Identifies a Need
Step 2: A Public Forum is Held
Step 3: Property Appraisals Performed
Step 4: Purchase Offers Extended to Property Owners
Step 5: Property Owner Responds to Purchase Offer
Step 1: Condemnor Identifies a Need
The first step in the eminent domain process is identifying a need for the project.
The condemnor – be it a city, state or utility company – must prepare a plan showing how revitalization of the area would benefit the public as a whole.
Step 2: A Public Forum is Held
Next, the condemnor presents its plan to the people who will be impacted.
A public meeting is held. The community receives details on the eminent domain project – including the exact location, approximate number of residents and businesses that will be affected, and a tentative schedule.
During this meeting, residents (homeowners, businesses and renters) are allowed to ask questions, and express their opinions and concerns.
If you haven't already, now's a great time to get our law firm involved. From this moment forward, you will need help protecting your rights as you navigate the eminent domain process.
Step 3: Property Appraisals Performed
The 'right of way' phase commences shortly after the public forum is held.
The condemnor chooses an appraiser to assess your real estate, then sends you a letter identifying the firm selected. While not required, you are encouraged to be present when the appraisal is done.
We recommend that you have Real World Law present at the time of their appraisal, and to obtain an independent appraiser as well.
Step 4: Purchase Offers Extended to Property Owners
Once your property has been appraised, you'll receive an acquisition offer from the condemning agency.
This usually happens within two to three months of the appraisal. You may or may not receive a copy of the appraiser's actual report along with the purchase offer. It is imperative that you have your own report to compare.
Step 5: Property Owner Responds to Purchase Offer
With our legal support, you have options. Before you accept or reject the condemnor's offer, let our firm conduct an evaluation. We will review all appraisals and property assessments before negotiating with the condemning agency.
If additional evidence is needed to prove the true value of your real estate, we'll obtain that too.
We provide legal representation on a contingency basis which means you're not required to paid any monies out of pocket to get started.
Schedule a Consultation Today
Our Upper Darby law firm is located on Market Street, minutes from Center City and one block east of the 69th Street SEPTA station.
If you're involved in an eminent domain action, we want to speak with you. Call 610.734.0750 or use this online form to request a private consultation.