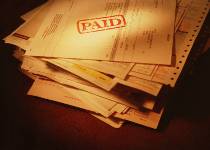 Are your medical expenses out of control and leading you to consider bankruptcy? If so, you are not alone. At the top of the list of reasons people file personal bankruptcy, medical expenses are there.
Increasing Medical Expenses can Lead to Personal Bankruptcy
The average American's medical expenses have increased dramatically over the years. Many Americans are covered by medical insurance for minor illnesses and complications. When their illness is more serious and involve higher medical bills, some Americans realize they are under-insured.
Not all Insurance will Cover your Medical Expenses
The costs associated with uncovered medical services or other expenses, can increase significantly when you need ongoing medical treatment for a serious illness. If you happen to be laid off in the process, you may be forced to continue your medical insurance through COBRA. Although COBRA laws can help to a certain extent, it is usually too expensive for the average family dealing with a recent lay off.
If your illness takes a turn for the worse, you may find yourself unable to work. This is bad enough in itself but when you combine this with an increase in medical bills, lack of adequate medical insurance, and income reduction, you may be forced to declare personal bankruptcy to survive your financial situation. Before you make any life altering decisions with regard to bankruptcy, consult an experienced bankruptcy attorney to discuss all options available to you.